Festival
Ganesh Chaturthi Fair (Ranthambhor Fort)
Ranthambore is not only popular for Ranthambore National Park, but one oldest temple"Trinetra Ganesha" is equally renowed among Hindu followers in Ranthambore. Thousands of pilgrims every month come to seek blessings from Lord Ganesha here. Trinetra Ganesh Temple is one of the oldest and unique temple as it possesses the whole family of Lord Ganehsa, which is found nowhere in the world. The temple is situated in the fascinating fortrees of Ranthambore, 12Km. away from Sawai Madhopur. When we unfold the history of the temple, it comes out as an interesting story. In the year 1299, a war took place between King Hameer and Ala-ud-din-Khilji. This war pursued for a long time resulting dissipation of sustenance stock of food and essentials. King Hameer was strong believer of Lord Ganesha. He saw a dream in which Lord Ganesha assured him about ending the war and troubles by the next morning. Surprisingly, in next morning a symble of Lord ganesha with three eyes (Trinestra) was found embossed on one wall of the fort. Also, the war was ended.

On chaturthi tithi of Hindu month Bhadawa known as Ganesh Chaturthi, a huge fair of Lord Ganesha is organised here where lacs of followers and believers gathered to worship and to enjoy at fair. Every year around 3-4 lacs devotees assemble in the fair which lasts for 3 days.
(Shri Ganesh Ji)
Chauth Mata Fair (Chauta Ka Barwara Tehsil)
Chauth ka Barwara is a famous religious place, known for its Chauth Mata Fair. This place is situated nearly 22 - 25 km from Sawai Madhopur. Chauth ka Barwara is named after the Idol of Chauth Mata (Goddess of Chauth (Chaturthi) worship by ladies for long life of their husband). Current ruler Shri Bhim singh established the cave temple of goddess after he dreamt about the Goddess where she instructed him to do the same. There is a huge fair organised every year, on Hindu month Magha, Chaturthi tithi (4th day). This fair is auspicious due to strong belief of devotees in Goddess. For a traveller, this fair is a heaven on earth due to its colors and cultural abundance. It depicts the true spirit of Rajasthan. Long queues for auspicious sight (darshan) of Goddess, amusements in fair, shopping spree of women, the gathering of men and women are the main attraction for any tourist to enjoy and capture in pictures. This fair lasts for 15 days.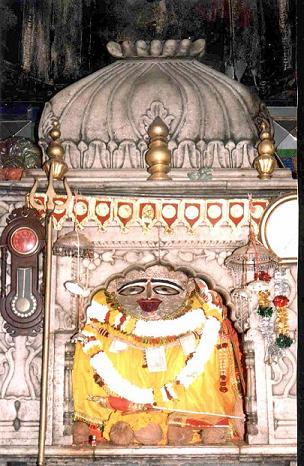 Amreshwar Mahadev (Near by Ramsinghpur)
Amareshwar Mahadev Temple is on the way to Ranthambore National Park, nestled amidst the high hills, the sacred Amareshwar Mahadev temple can be found. This is a famous picnic spot in Sawai Madhopur.
Rameshwaram Ghat (Khandar)
Rameshwaram Ghatis one of the lovely ghats in Ranthambore. It is lined with boats offering trips and the temple on the banks is amazing too. Good to sit down in the evenings and see the village life pass by.almost 60kms from ranthambore, u ve to drive towards pali then take right from behraunda. awsome place, peascefull. one side rajasthan n other M.P. Sun rises at this ghat is a great experiancewith my family. One of the old and famous place in rajasthan. Here many people come for taking bath at ghat. But some times due to heavy rush, pollution also there through many wastage. But must be visit at least 1 time.
Kalyan Ji Fair (Gangapur City)
Every year on Baisakh Shukla Puranmasi, as per Hindu calendar, this fair is organised at Gangapur City. This fair is organised for Seven days. Thousands of people join this fair.
Ghushmeshwar Fair (Shiwar)
Ghushmeshwar Jyotirlinga is abode of Lord Shankar . Ghushmeshwar is an incarnation of the Mahadev. Her abode is nestled in the picturesque Devgiri hills in Shiwar, District Sawai Madhopur, State of Rajasthan in India, 100 kms from Jaipur-the state capital. It lies 3 km from Isarda railway station by the side of kota-jaipur rail route. The sacred shrine of Ghushmeshwar Jyotirling Mandir is belived to be thousands of years old. Millions of devotees throng the temple round the year. The congregation of devotees assumes a much colourful look during Shivratri and Month of shrawan .Shivratri held a year in the solar calendar months of Chaitra (around February-March).
Regarding the twelfth jyotirlinga of Lord Shiva many sayings are there. Many claims & declaims has been raised during past years for the location of this jyotirling. But it proves from the Shivpuran certifications that the original place is Shiwar (Rajasthan) and its only the twelfth jyotirlinga.
. According to The Shivpuran (kotirudra) chapters 32 to 33 Ghushmeshwar Jyotirling must be at Shivalaya. . In older times, this place was named Shivalaya, changed to shival, and then to Shiwar.